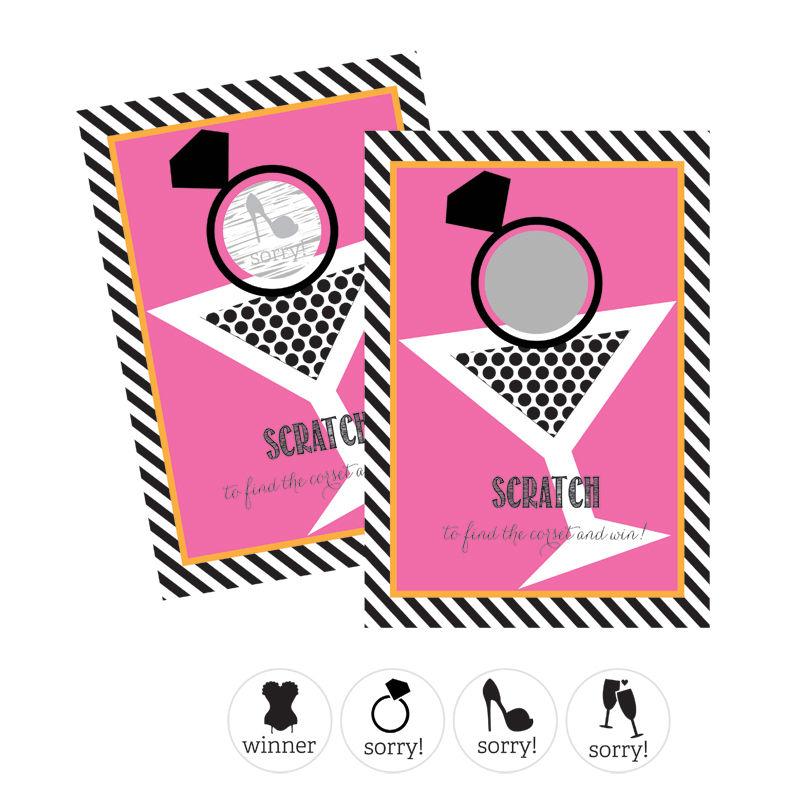 Bachelorette Party Scratch Off Game Cards (Set of 12)
$ 11.99
Invite guests to play this fun and unique bachelorette party game!  Our Scratch Off Game Cards are printed with a stylish cocktail and diamond ring and the phrase "SCRATCH to find the corset and win!".  Cards have a silver circle with hidden wedding related icons that say "sorry!", only one winning card will reveal the corset and that's the "winner!".  Guests must SCRATCH off the silver coating to reveal their hidden surprise.
Each set of scratch off game cards contains 11 losing cards and 1 winning card. Cards arrive with winning card on top of the deck.
Size:  2.75" x 4"
Email us at lisa@toocutestore.com Any questions please call 510-969-CUTE
Non-Personalized orders take 2-3 business days to process and personalized orders take 3-5 business days. Rush orders (1-2 business days) are available for a $15 fee. Take note that these are only the processing times and do not include transit times, the actual time it takes to physically get the orders to you. See map below for transit times (from Los Angeles, CA).